Welcome to the Bremerton Chamber of Commerce
 BUY A BREMER BOND!
The brainchild of Bremerton's own Josh Farley, the BremerBond Campaign helps support our small local businesses that are being dramatically impacted by the Coronavirus shutdown.
When you purchase a BremerBond for $100, Bremerton Chamber of Commerce will distribute 100% of the funds to the small local businesses that need it most.
The bond can either be redeemed for local gift cards after the resumption of normal business or it can be framed and hung in your home or business as a sign of your commitment to supporting local businesses! Click the bond below and buy your BemerBonds!
BREMER BOND FUNDING APPLICATION
The Bremer Bond Campaign funding is now available to local businesses through Bremerton Chamber of Commerce (BCC) and Downtown Bremerton Association (DBA).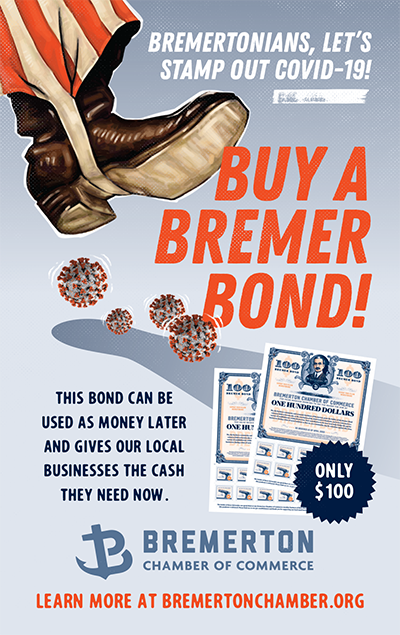 Bremerton Chamber of Commerce is here for local businesses, more now than ever.
Supporting Bremerton Business during COVID-19
---
As your local Chamber, our role has not changed, only the way in which we fulfill that role.
Now is the time, if you haven't created an online presence, to do so. Set up a Zoom account for free, build your social media platforms and gradually move your identity over, at least for now.
Look for weekly online Chamber *meetings* where small business owners can come together to support one another and learn about critical resources coming downstream.
We'll also have virtual monthly Chamber *luncheons* starting April 21.
So stay strong, Bremerton! We're here for you!
Resources & Info for Business Impacted by COVID-19
---
Government Information Regarding Covid-19
Business Resources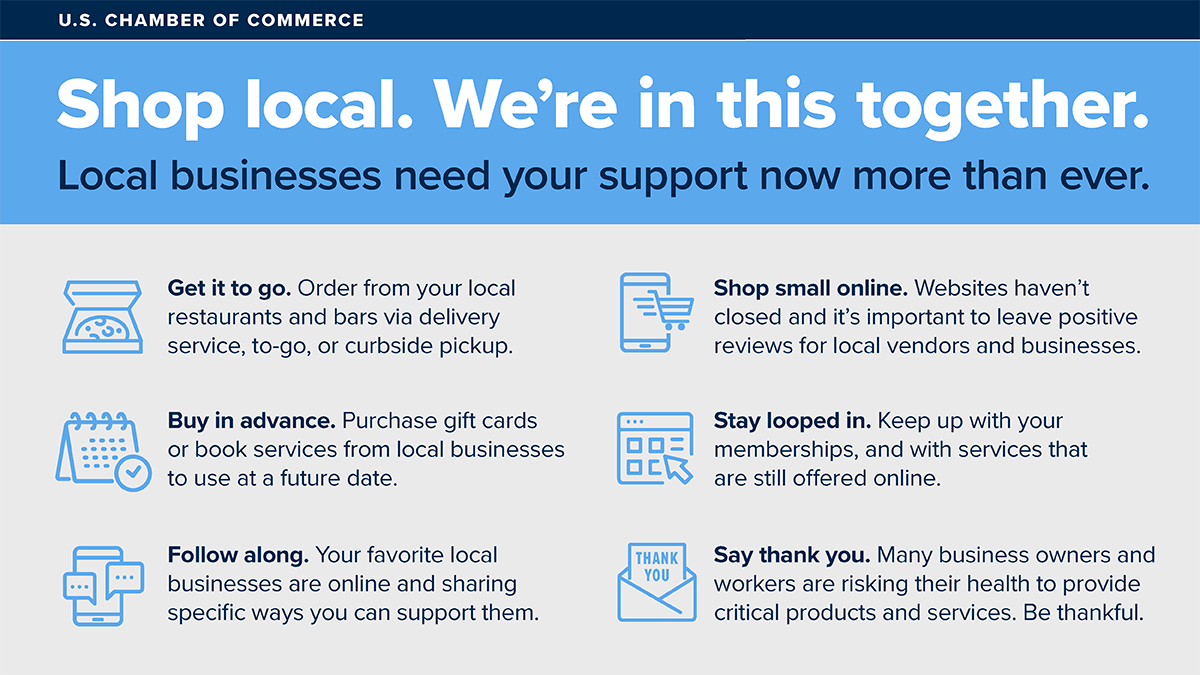 The Bremerton Chamber of Commerce promotes member businesses and provides leadership to enhance a positive business environment.
We are an association of businesses, focusing on facilitation, advocacy, education, and communication.
Like most chambers of commerce, the Bremerton Chamber of Commerce is a private, non-profit membership organization. Our mission is to promote and support our member businesses and provide leadership to enhance a positive business environment. This mission has helped the Bremerton Chamber become one of the largest chambers on the Olympic Peninsula as well as one of the most effective chambers in delivering benefits to our members and the community.
The Chamber offers many in-house services including extensive visitor and relocation assistance. The Chamber is also involved in many behind-the-scenes activities to help the business and citizens of Bremerton and Kitsap County. The Chamber works on economic development and international trade, tourism, tax and regulatory issues as well as community planning and redevelopment.
When we set out to create Axe & Arrow Gastropub one of our major objectives was to be community connected. 
Joining the Bremerton Chamber of Commerce was the best way for us to connect with local businesses and other organizations.
Jack Hastings, Axe & Arrow Gastropub
Not only have I been a long time member of our Bremerton Chamber of Commerce, I serve on its Board of Directors as well. The Bremerton Chamber provides abundant opportunities to expand community involvement and enhance business relationships.
There is greater impact on both my ROI and for my client services because of my Chamber membership.
Betty Skinner, Betty Skinner Allstate Insurance